Posted on: November 25, 2018
Announcement
The Wharton School of the University of Pennsylvania is pleased to announce the International Association for Continuing Education and Training (IACET) awarded Wharton Online, the School's digital learning platform, prestigious Accredited Provider status. As the first business school in the world to receive this gold standard accreditation, Wharton may now offer certified Continuing Education Units (CEUs) to adult learners who wish to advance their careers through Wharton Online's world-class business education curriculum, available anytime and anywhere.
Launched in 2013, Wharton Online has expanded access to Wharton's high-quality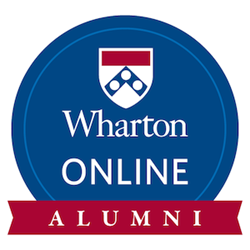 business courses to more than 150,000 online learners around the globe. As an IACET Accredited Provider, Wharton Online may now issue credentials allowing learners to signal to current and future employers competencies gained and skills earned.
Starting December 1, all Wharton Online learners who complete a course will receive a digital badge through Credly, a leader in the digital credential movement. These badges can be shared via social networks including LinkedIn, as well as via personal websites and resumes.
While Wharton Online will initially issue CEUs through their "Leadership and Management" four-course certificate program, they plan to expand the list of qualified programs in the coming year. Since many companies reimburse employees for the cost of earning CEUs, this new accreditation will make Wharton Online appealing to a far wider audience of learners, including managers, analysts, strategists, entrepreneurs and marketers.
"We are proud to receive IACET accreditation since it is widely acknowledged as one of the highest achievements in continuing education," said Anne Trumbore, Senior Director of Wharton Online. "We're confident that digital credentialing is the future of learning and, as a result, anticipate attracting half a million new users to the Wharton Online platform in the next two years."
To obtain this prestigious accreditation, Wharton Online completed a rigorous six-month application process, including a site visit by IACET.
"We are pleased to recognize Wharton Online as an Accredited Provider," stated Peter Finn, President of IACET and the Director of Learning and Development for the Society of Women Engineers in Chicago, IL. Finn added, "Wharton joins nearly 500 organizations around the globe that have had their programs vetted by third-party experts in continuing education thereby ensuring the highest possible standards are met."
About Wharton Online
Wharton Online, the Wharton School's digital learning platform, makes high-quality business education available to learners anytime and anywhere. From certificate programs that issue Continuing Education Units to specializations across a variety of business and management topics, Wharton Online's offerings equip learners to advance their careers. And with 100K certificate-earning learners and more than one million total learners who have accessed courses, Wharton Online boasts an impressive network of business leaders around the globe.
About the Wharton School
Founded in 1881 as the first collegiate business school, the Wharton School of the University of Pennsylvania is recognized globally for intellectual leadership and ongoing innovation across every major discipline of business education. With a broad global community and one of the most published business school faculties, Wharton creates economic and social value around the world. The School has 5,000 undergraduate, MBA, executive MBA, and doctoral students; more than 13,000 participants in executive education programs annually; and a powerful alumni network of 98,000 graduates.
Read the original release here.
Tell your network about this Announcement